While the semiconductor industry is the largest user of nanotech, other industries are exploring uses for nanotechnology as well.

As computer chips are continually being made smaller in order to satisfy the consumer's desire for tinier electronic devices, nanotechnology continues to reign in this area. As the semiconductor field is $100 billion plus industry, it contributes significantly to nanotechnology research. Other industries benefit from all this research. Industry leaders include Bell Labs, Intel, HP, and IBM.

Nanotechnology is also used in medicine. In the future, nanotech research will allow medical equipment to be made more inexpensively. It will help improve accuracy in diagnosing medical problems. Tiny, inexpensive sensors and implants will provide both automated monitoring and semiautomatic treatment. Company leaders exploring nanotech in the medical world include Nanospectra Biosciences, Hitachi, Dow Chemical, and Merck, as well as Abbot Laboratories, Beckman, Nanoprobes, and American Pharmaceutical Partners.

Nanotechnology is also being used in the manufacture of materials, from the rubber in tires to fabrics that repel stains. In these applications, nanotech is used to make composite materials stronger. Gore-Tex is a good example of a clothing company using nanotechnology; Gore-Tex consists of a waterproof polymer membrane with embedded nano-size carbon particles that resist taking on a static charge. Nanotechnology can be used to fireproof materials as well as make them stain-resistant. Other companies using nanotechnology to make materials include Zyvex, Nano-Tex, Babolat, InMat, General Electric, Altair Technologies, Celanese, and Materials Modification.

Some companies are producing raw materials for nanotechnology, like nanotubes or sheets of graphite, for example. Supplier of nanotechnology raw materials include Carbon Nanotechnologies Corporation, QuantumDot, LG Electronics, nGimat, Nanomaterials, NanoDynamics, Zyvex, and the FEI Company.

Another industry exploring nanotechnology is the software industry, in which software programs used to view, model, and simulate nanotechnology are being developed. Companies like Coventor, Accelrys, NanoTitan, and General Nanotechnology fit into this category.

Some companies are involved with making equipment for testing and manipulating nano-sized materials. These include Veeco Instruments, Zyvex, Obudcat AB, DuPont, Nanometrics, MTS Systems Corporation, LabNow, Applied Nanofluorescence, and Zygo.

Nanotechnology is being applied to telecommunications by companies like Bell Labs, Mobile, Corning, and Memscap. Other companies, like Nanosys, Konarka Technologies, Hydrogen Solar, GEMZ Corporation, Siemens, and Chevron Texaco are developing nanotechnology-enabled fuel cells to be used in portable electronics.

Even cosmetic companies are using nanotechnology to improve how make-up adheres to the skin. Procter & Gamble, Bionova, Jafra Cosmetics, and Ayurveda India are all exploring nanotechnology uses.

For an extensive, categorized list of companies and laboratories that are involved in nanotechnology, visit Nanowerk's company and labs directory.
---
Copyright © Zeducorp.
All rights reserved.
Nanotech Industries - Nanotech Applications
Related Images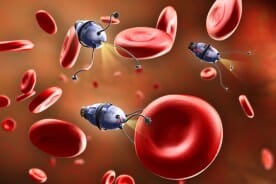 Nanotech Robots - 3d Rendering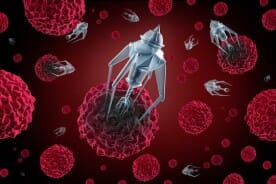 Medical Nanotechnology Robots