Nanotechnology is spearheaded by a group of people who continue to creatively explore it. Here is a list of scientists and business leaders considered the movers and shakers of the nanotechnology world.
RICHARD SMALLEY: A professor at Rice University, Smalley is credited with discovering C60, the buckminsterfullerene. Also known as the buckyball, this is the key to the molecular structures which are most often used in nanotechnology. He founded the company Carbon Nanotechnologies Inc.
CHARLES LIEBER: Charles Lieber is a Harvard University professor who developed the synthesis, characterization, and development of nano-scale wires. He founded the company Nanosys, Inc.
HONGJIE DAI: Hongjie Dai of Stanford University studies the suitability of carbon nanotubes for future miniaturized devices. Because of the small size of carbon nanotubes this calls for extreme precision as he tries figure out their unique quantum effects.
JAMES HEATH: James Heath helped run the experimental apparatus that helped Smalley discover C60 at Rice University. He pioneered the molecular switch, using nanowires and molecules, and also developed a scanning optical microscope used to noninvasively probe the electrical functions of living cells.
JAMES VON EHR II: He is the founder, chairman, and CEO of Zyvex Corporation, a company that specializes in nano-size manipulators. These tools allow scientists to work with nano-sized structures under a microscope.
GEORGE WHITESIDES: A chemistry professor at Harvard and a member of the Nanotechnology Technical Advisory Board. George Whitesides' research influences material science, surface science, microfluidics, self-assembly, and nanotechnology.
PAUL ALIVISATOS: His major contribution to technology is his work with semiconducting nanocrystals. The crystals come in different shapes and sizes, such as quantum dots, nanorods, and tetrapods.
ANGELA BELCHER: Belcher pioneered the use of genetically modified viruses in the self-assembly of nanowires, thin films, and other nanomaterials. Her work has a direct impact on drug discovery and delivery, materials and catalysts, and self-assembling electronic materials.
Other movers and shakers include Richard Feynman and K. Eric Drexler, whose vision of nanotechnology spurred its growth; Naomi Halas and Jennifer West, who are working with nanoshells that find and "cook" cancer cells; James Tour and Mark Reed, who are using nanotechnology to come up with an inexpensive replacement for silicon-based computer chips; and venture capitalist Josh Wolfe, who has invested in nanotechnology.
---
Copyright © Zeducorp.
All rights reserved.
Nanotech Scientists - Nanotech Movers and Shakers
Related Images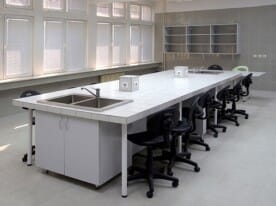 Well-designed Science Lab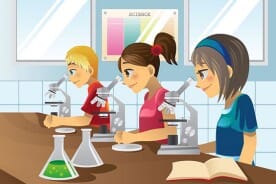 Students In Science Class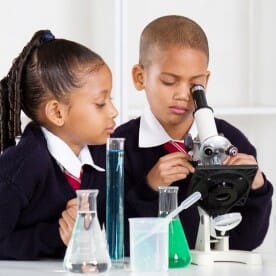 Students In Science Lab